Captain Stephen (Steve) Heffron
Coast Guard License #1112600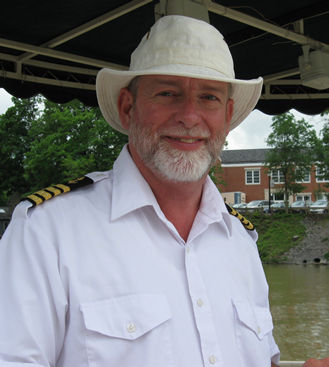 Qualifications
 USCG 100-Ton Masters License, Great lakes and Inland Waters.
Towing Endorsement
USCG Certified Instructor – U. S. Coast Guard Licensing Course
Senior Navigator, United States Power Squadrons
Vessel Safety Examiner, United States Power Squadron
First Aid and CPR certified
Personal Information
I have a long-term interest in boating. I am currently a Past Commander and Squadron Educational Officer of the Rochester Power Squadron, as well as a past Commodore of Pultneyville Yacht Club.
Experience
Captain for Cornhill Navigation on Sam Patch Packet Boat Tour Boat and Mary Jemison Tour Boat
Captain for Colonial Belle Tour Boat
Over 25 years experience on the Great Lakes as well as the NYS Erie, Rideau and Welland canals.
Have been on many long term (2 – 3 weeks) cruises throughout the Great Lakes.
Owner/Operator of a 36' Albin Trawler and a 33' Cruisers Yachts Convertible Power Cruiser.
Related Affiliations
Sodus Bay Maritime Captains Association
Sea Tech Marine Training
Rochester Power Squadron
Pultneyville Yacht Club
Boat/U.S
Services Provided
Primary work interest currently is boat deliveries. Time available for deliveries is very flexible, with no restrictions on departure and destination points.
Captain vessels carrying passengers for hire such as tour boats, charter boats and ferries on Lake Ontario and adjoining waterways or New York's Finger Lakes.
Contact Information
Captain Steve's Marine Services
Cell Phone: 585-370-8216
E-mail: captainsteve1979@gmail.com