About the Sodus Bay Maritime Captains Association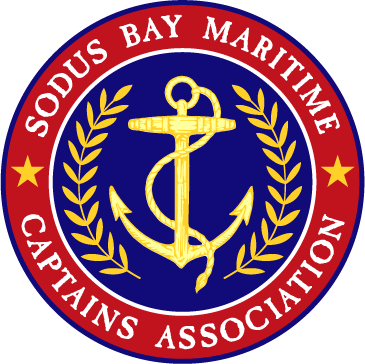 We are a member association, consisting of United States Coast Guard Licensed Captains, that has as its primary purpose the education of the public and the continuing education of its members in maritime safety and skills.
We are incorporated as a New York State Not-for-Profit corporation, which is tax-exempt under IRC section 501(c)(6).
SBMCA is a proud sponsor of the National Safe Boating Council's "Wear-It" campaign which seeks to encourage the full-time wearing of lifejackets (PFD's) when underway.   For more information about the nation-wide campaign click here.
As a minimum requirement, our members hold current and valid U.S. Merchant Marine Officer Master Licenses, issued by the United States Coast Guard.   In order to obtain that license, our member Captains have completed a rigorous application process demonstrating appropriate on-the-water experience and submitting to drug testing, medical examinations and background checks.
In addition, all members have passed a comprehensive examination, administered by the Coast Guard, covering Piloting, Aids to Navigation, Rules of the Road, First Aid, Weather, General Seamanship and some have passed optional Sailing and Towing exams.
Our programs and activities include:
Conducting a course titled First Mate Safe Return that will teach the fundamental knowledge and skills needed to call for help, know where you are, and operate your boat in the event your Skipper becomes disabled. Watch for information to come on next scheduled class.
A recent graduate said:
"I just wanted to let you know this was the best thing I have done for myself and my spouse where the boat is concerned.   I took the course this spring and while on vacation in the islands needed to use all my new skills including hailing the coast guard when we ran aground during a thunderstorm that came up quite suddenly.   The course helped me to assist my husband in a calm and logical manner instead of the panic that I am sure would have occurred had I not known what to do.   It has made our sailing experiences much more enjoyable and relaxing for both of us.   Even though I had been sailing with my husband for over 10 years and was quite active in the experience I became comfortable in handling the boat on my own.   I guess there's no need to yell if everyone knows what's going on.   Thanks a lot for offering this course and I have encouraged all my fellow first mates in the area to sign up.   It is the best thing to do for everyone involved in boating." — Karin Beachner
Conducting a course on How to Read a Nautical Chart.
Assisting members in keeping their licenses current and enhancing their skills and knowledge through continuing education.
Sponsoring a Captain's License Training Course.
Participation in the collection and recycling monofilament fishing line. SBMCA collection containers are located at popular fishing spots around Sodus Bay, Irondequoit Bay and the Genesee River. Captain Tim Maxam heads this program in partnership with BoatUS.